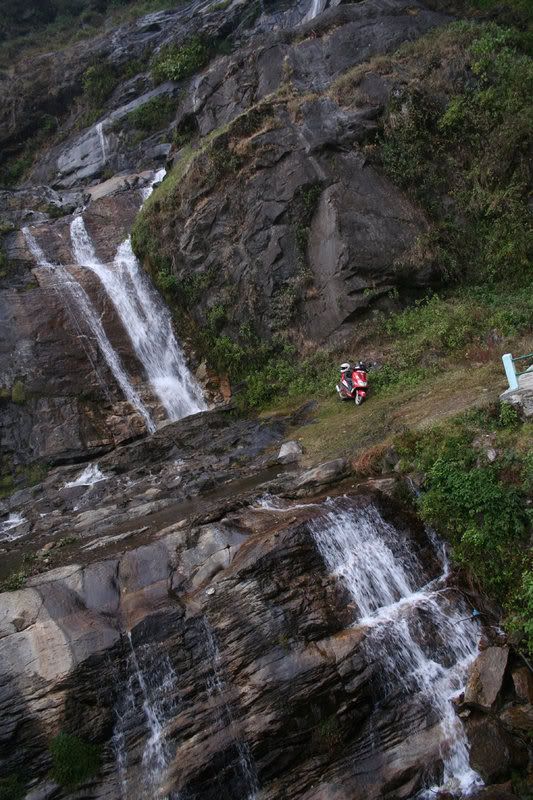 27th Nov: Pelling
The stage was set for Sikkim Scooter Rally. There was only one participant and the route was a 40kms stage from Pelling to Uttaray and back. The lone participating rider had no clue of the conditions ahead which were full of broken roads, roads under construction, water-falls, bridges, dirt, stones and streams on the road. The lone rider, Bunny Punia, me, on the lone machine, a battered Kinetic Blaze, which had no suspension, no main stand and body parts which were about to fall apart any moment, was all ready to set north towards a little village called Uttarey, around 21kms from Pelling, by 12 noon. I packed in a wind-cheater jacket, water proof lowers, muffler and a bottle of water and kept it all under the ample storage space of the Blaze and looked forward to 'little' journey ahead. Within the first kilometer, I realized the ride today would be full of shakes, enough shakes to almost make my internal organs file a divorce against my skeleton! And I am not exaggerating at all, may be the Blaze being on 12inch rims made me feel every single meter of the road properly.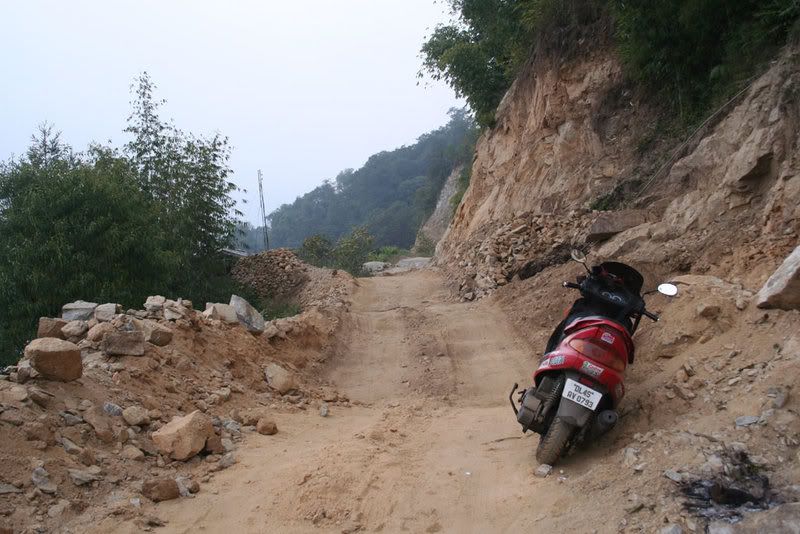 But this being Sikkim, made sure there was no shortage of fantastic views, hampered sometimes by the low clouds hugging the mountains. And not to forget those rosy cheeked children and girls and there shying smiles.
Ten kilometers from the hotel and 45minutes later I was at the Changay waterfalls and spent close to an hour there.

I have been to numerous waterfalls but this one was different, mainly because there wasn't even a single tourist present there. I was the only one there, and occasionally a couple of school children walked past by, stopping for a minute to see what a lonely guy on a 'scooter' was doing. There was a path way going up the hills, very close to the waterfall and it gave me quite a close access to feel the soft spray of water droplets rising from the falling waterfall. Continuing further, the roads really deteriorated, with JCB machines and several workers working hard to clear the road which was wide enough for just one jeep to pass at a time. To make things worse, clouds started coming down which meant I would have no view of any snow peak what so ever. The elevation kept coming down till I crossed over a bridge onto the other hill and then the climb started to Uttarey. It was already and I had not even covered 20kms. Ok, I did stop for pictures a lot and for roads to be cleared but on the whole the road conditions were very bad, which in a way were good as the area was devoid of the normal tourist fare.
On way to Uttarey, I came to the highest bridge in Sikkim, the Singhshore bridge.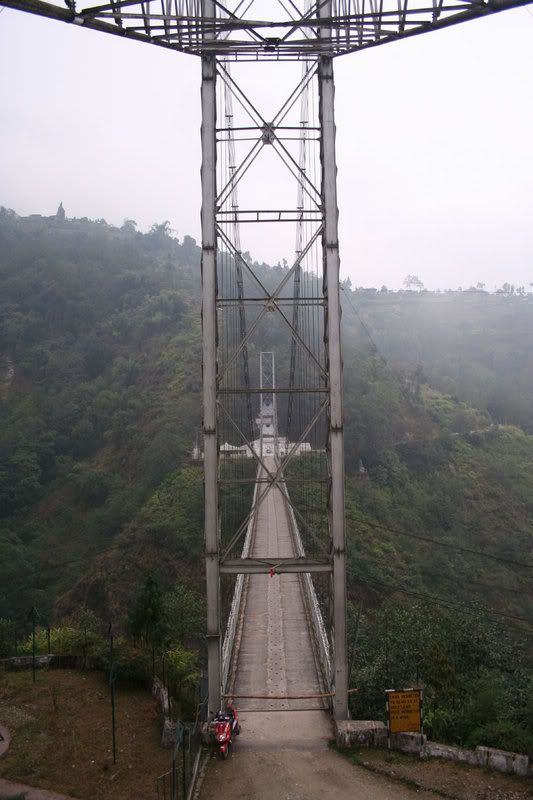 Again this place too was totally isolated and there were big bamboo braches on both the end, which I had to pick up to get me past the bridge. There wasn't any river or big waterfall below the bridge but it actually connected two hills and the road on the other went towards Uttarey but unfortunately I couldn't go to the village as the roads were almost blocked with stones. What a shame, Nepal was just 4 hours of walk through the hills, which meant around 20kms in a straight line.
I had taken along two Nestle Munch bars and a biscuit pack as my lunch and had them while photographing the Singhshore bridge. It was by now, and I had to head back as I was still around 90minutes away from the hotel.

On the way back, it started drizzling very lightly, which turned into sleet for a while and I was freezing to the bone. I put on the Ipod to divert my mind and then is when the 'Sikkim Scooter Rally' started. Not caring for the broken roads, I flew over them, the scoot sliding through dirt filled corners as the sleet had made turned the sand into soft mud by now. Half the times my either leg would be out, balancing the machine (those who have seen scooters taking part in rallies will understand) but all this lasted for just ten minutes as blasting of rocks was going on for widening of the road and it meant stopping for more than an hour. The Blast happened in front of my eyes and it actually shook the whole area with dust and little stone pieces flying everywhere. Within minutes, two JCB machines were working with close to ten workers helping the machines clear the road.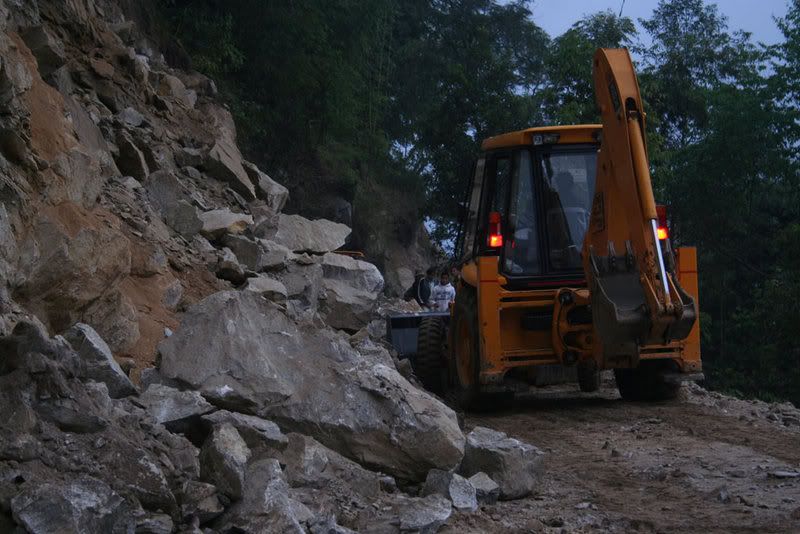 It was dark, past and very cold by the time I could start back and this time I made sure I listened to very soothing music to keep the pace slow and reach back in one piece. Some road sections which I had covered in , where roads were being laid on the road were now somewhat smooth (thanks to the road-rollers) and a shivering lone rally rider was back at the hotel by .
We (Sunny, Sunil and me) are in the cosy restaurant and just had our dinner. Tomorrow we head to Gangtok for some real snow action (Chango lake and Nathu-la). The permits have been arranged, thanks to a sweet caring family I have found there. Signing off from the base of Kanchunjunga, which we still haven't been able to see because of the cloud cover!