26th October : Mysore - Bangalore
It had been a blunder for us yesterday. Partly due to the horrible roads and partly due
to the fact that we could manage to leave Mangalore by 3pm only. Anyways, the press hop had been arranged for us at the Press Club of Bangalore at 11am and it would be a 140km ride from the outskirts of Mysore to Bangalore, and then spending time looking around for the place!
Luckily we had pradeep, a Xbhp member in Mysore, who helped us get onto the Bangalore highway asap. It was a revelation to be on smooth tarmac again and while Sunny was enjoying the Fireblade to the max, Sunil and I (riding Kinetic Blazes) could only manage cruising at 90 and the occasional 100km/h! On good roads like these, i really miss the Jupiter's comfort and ability to cross the ton mark with ease and stay there forever....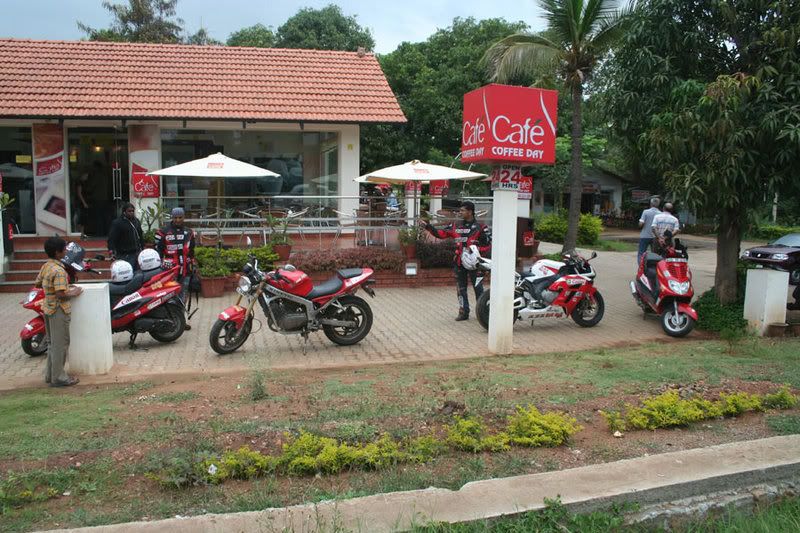 Breakfast was at CCD – a really enjoyable one and talking to Venu of Bangalore was a good news too as he would be escorting us to the Press Club of Bangalore. For once, we would be on time in a city!
The location chosen by the Ipan guys was too good, a lush green little campus with squirrels and dogs living side by side in mutual harmony! And ofcourse the whole press was there, not for us, but for different purposes but then seeing us arrive on our machines did arouse a lot of interest in many people and we ended up being covered by five newspaper, a couple of websites and local tv channels!
By the time we were done at the press club of India, we went for a small photo shoot outside the vidhan sabha with the photographers and believe me, there was literally a traffic jam and even the local cops helped us by stopping the traffic! Amazing… it was time to head to the hotel that Venu had booked for us. Sabharwal guest house, in Wilson Garden it was. Nice place with underground parking for reasonable rates. Quite a few members had also come there and we decided to hang out at the 'Roadtrip' restaurant for lunch.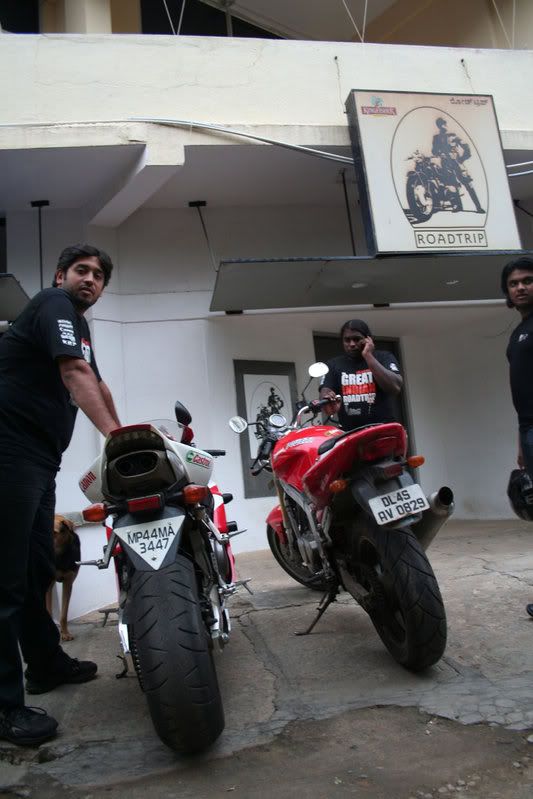 'Roadtrip' is based on biking theme and a good place for bikers to hang out and fill their bellies at the same time. I, in the meantime, was very tired and even right now don't have enough strength to pen down about today's happenings. Sorry for that…. Hope to blog better from tomorrow onwards, when we head to Nandi hills with the gang. Cio…